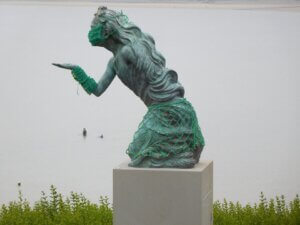 The Ceredigion 60 mile section of the Coast Path is a very special part of the Wales Coast Path.  It probably has the most varied landscape and terrain of the 870 miles around the Country . There are fabulous views north towards Snowdonia and south towards Pembrokeshire.  The Ceredigion section also has a wealth of wildlife, geological and archaeological features and a colourful history to discover along it.  The Bay has an abundance of wildlife, both on shore and at sea.
New Quay is at the centre of the Ceredigion Coast Path.
New Quay to Aberaeron
The walk from New Quay to Aberaeron is one of the most popular stretches.  It includes ones of the favourite walks of Dylan Thomas.  Enjoy beautiful beaches, waterfalls and woodlands on this six-mile walk.
New Quay is just 3 miles from Llainwen Cottages.  If you don't want to drive down to New Quay, you can take a bus from the end of the road – and catch another in Aberaeron to return to the Cottages.
New Quay to Cwmtydu
You can also walk the Coast Path south from New Quay to Cwmtydu (Seals Bay in English).  Enjoy spectacular views with an abundance of wildlife, including possible sightings of dolphins, porpoise, atlantic grey seals, and the many sea birds who use this section of the coast.  You will discover secret bays, inaccessible except by sea. This is a 4 mile walk each way.
Want to find out more about these walks, and others on the Ceredigion Section of the Wales Coastal Path?
Visit the Discover Ceredigion Website http://www.discoverceredigion.wales/
Alternatively, visit the Wales Coast Path Website https://www.walescoastpath.gov.uk  for more information.  You can also download a free on their site The App will bring the path alive, and includes 3D films and games.
Tides
The section of the Coast Path between New Quay and Llanina passes over the beach at Traethgwyn.  This section is not available at high water – please check tidal conditions in advance.  The road from New Quay to Llainina can be used as an alternative.